GCBO February E-news

February, 2016
GCBO Hosts Henson Conservation and Puppet Workshop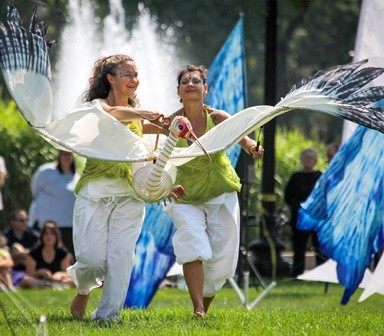 On February 20, Heather Henson of the Muppets family will bring a puppet workshop to GCBO. Heather Henson, daughter of Jim Henson, is a world renowned puppet creator and designer and conservationist. Heather believes in the power of puppets to help improve the world and her puppet workshops are a way to teach children to discover roles we can all play in creating a healthier planet. Puppet workshops have been held in Mongolia, Nepal, Kazakhstan, China and several crane hotspots in the U.S. The workshop will focus on teaching children about the migration patterns and conservation issues of cranes in North America and other parts of the world. The message is conveyed using puppets and direct child involvement and provides a hands on learning experience. The workshop will be held from 9:00am to 12:00pm on February 20th at the GCBO headquarters in Lake Jackson and is limited to 20 children. The cost is $10 for GCBO members and $20 for non-members. To sign up your child, call Reba here at GCBO (979-480-0999).
---
20th Whooping Crane Festival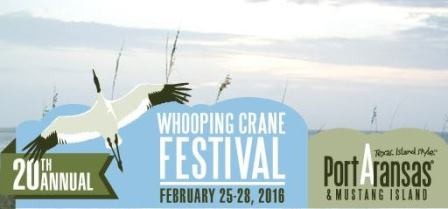 This year's Whooping Crane Festival at Port Aransas marks its 20th anniversary. Festival activities will run from Thursday, February 25 through Sunday, February 28. As usual the festival will have a mix of presentations on cranes and other birds and different nature topics such as monarch butterflies. A large number of crane and birdwatching tours are available several times a day for all to enjoy the outdoor opportunities around Port Aransas and surrounding coastal areas. Artistic exhibits and other types of demonstrations are also available for those interested in indoor activities. At this year's event, our own Felipe Chavez-Ramirez will be participating in the program and leading some of the bird and crane tours. For more detailed information call 1-800-45-COAST or visit the festival webpage.
---
Want A Little Bird Education?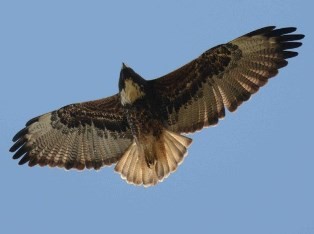 photo by Jim Stevenson
Do you know what species this bird is? Hint - it's a youngster of common raptor along our coasts. We got this photo from one of Jim Stevenson's e-mailed Galveston Ornithological Society PDFs. Anyone interested in furthering their "bird education" might want to try them out. They have pictures and short paragraphs with id tips on a variety of species that are seasonally applicable. They come out twice a week, names are withheld, no businesses advertise, and you can get on and off the list whenever you like. Just e-mail Jim and he'll put you right on.
---
Get Ready For Spring Fling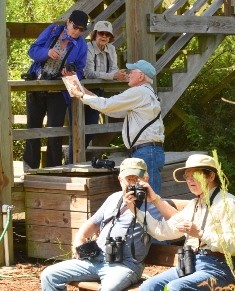 Photo by Pete Romfh
It is already February and GCBO's Quintana Spring Fling is right around the corner. As in past years, Spring Fling will be held daily the entire month of April at Quintana Neotropic Bird Sanctuary. We will have knowledgeable volunteers and staff on hand to answer your questions, keep a daily list, and sell water, snacks, and field guides. Please stop by and visit! In addition, we need your help to make this event successful. This year GCBO volunteers Peggy & Pete Romfh are organizing Spring Fling. If you would like to offer your unique skills to help out, please contact them by clicking here. On Friday, March 25th at 3:00pm we will hold a training session at the host station in Quintana for everyone willing to volunteer during the month. Please contact the Romfh's or call GCBO to sign up. Additionally, GCBO hosts an online auction during the month and we are requesting nature related auction item donations at this time. Don't forget to go online April 1 and start bidding!
---
Osprey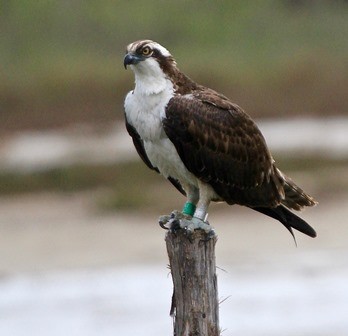 Photo by Liz Garney
On January 3 Liz Garney was birding along 8 Mile Road in Galveston when she spotted this banded Osprey. She got some great photos and we were able to get her in contact with the bander, Marco Restani in Montana. If you read our Spring 2015 newsletter, you may have seen the article about Debbie Respasz finding a banded Osprey too. That bird was also one of Marco's. Liz's bird was banded on July 15, 2015 as a chick near Columbus, Montana with it's two siblings. Marco was very happy to see it had survived as almost 50% of Osprey nestlings in that area are afflicted with an unknown disease and many don't make it. The Texas coast is filled with wintering Osprey so keep any eye out for more banded birds. It's a thrill for both the sighter and the bander! Just for fun, here's a photo of the chicks when Marco banded them.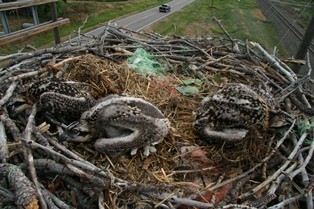 ---
GCBO Wish List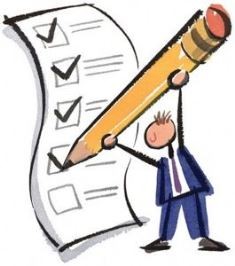 We still have a few more items on our list. Can you help us out? Take a look and see if you can donate any of these items. We will be happy to provide you with a tax donation letter for your efforts!. Thanks so much.
adjustable Purple Martin house pole (we have a house)
small air compressor
volunteer willing to be trained and assist with grounds mowing
---
Monthly Bird Banding at GCBO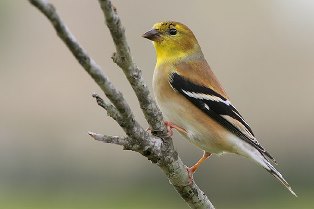 Photo by Greg Lavaty
It's February and the heart of winter. We usually catch a lot of goldfinches but you never know what birds are lurking out there. Come see what turns up in the nets. Bird banding will be on Saturday, February 20 from 8:00 until noon. Remember, the birds get up early so the earlier you are here the more you'll see. Seeing birds in the hand is a great way to get kids young and old excited about wildlife. See the map on our webpage for directions or use your GPS to take you to 299 Hwy 332 West, Lake Jackson, TX.