Silver & Black Fall Update

October, 2015
In This Newsletter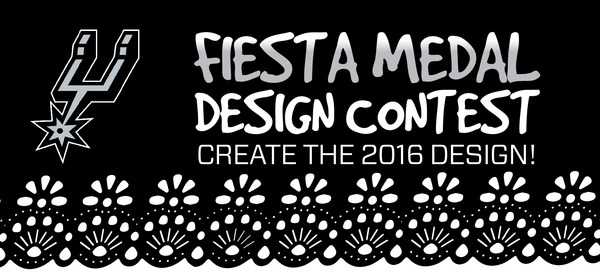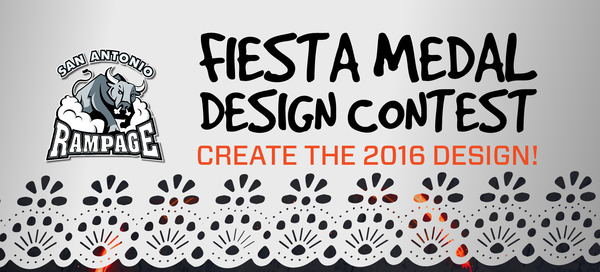 Fiesta Medal Design Contest
Completing a first-ever collection of fan-designed 2016 Fiesta® medals from Spurs Sports & Entertainment (SS&E), Silver & Black Give Back (SBGB) has announced Fiesta® medal design contests for both the San Antonio Spurs and the San Antonio Rampage.

Be sure to submit your designs to sbgb@attcenter.com by November 11 for the chance to have your medal produced and sold!

For more information on Spurs Fiesta Medals, click here.
For more information on Rampage Fiesta Medals, click here.


Team Up Challenge Semi-Finalist Announcements
Silver & Black Give Back announced the 18 student-led groups as the 2015-16 Team Up Challenge semi-finalists on Friday, October 16th. Each group will be awarded a share of $50,000 to begin their service-learning projects. The 18 semi-finalists were selected based on proposals submitted for projects to improve their communities. Watch the semi-finalist announcement recap here. Keep up with the school projects throughout the year by visiting teamupchallenge.com.

To learn more about the Team Up Challenge program, click here.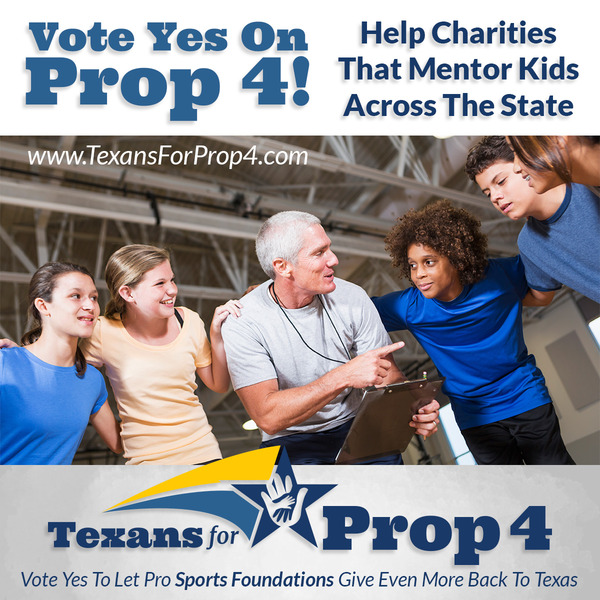 Vote Yes to Proposition 4
Passage would be Win/Win for Fans and Charities
Proposition 4, a constitutional amendment otherwise known as Sports Charity Proposition, would allow professional sports franchises across the state to conduct charitable raffles at every home game – rather than twice per year that is permitted under current law.

Fans would have the ability to purchase a raffle ticket and then split the cash prize with Silver & Black Give Back. Professional sports franchises in 24 other states have long held 50-50 raffles with great success. No taxpayer dollars would be associated with the initiative, and monies raised by the raffle would only be used for charitable giving.

The campaign for passage of Proposition 4 is a collaborative effort between ten professional sports teams including the San Antonio Spurs, Texas Rangers, Houston Astros, Houston Rockets, Dallas Stars, Dallas Mavericks, Dallas Cowboys, Houston Dynamo, Houston Texans and FC Dallas, who are all working to bring this winning experience to Texas' biggest sports fans and communities. Listen to this message from Nolan Ryan to learn more and click here to see the Spurs Update on Proposition 4.

Early voting began October 19 and runs through October 30. Election Day is Tuesday, November 3rd.

Make sure you head to the polls and vote yes to Proposition 4! Our students can score big with your help at the ballot box.
Click here for more information on early voting locations and polling sites.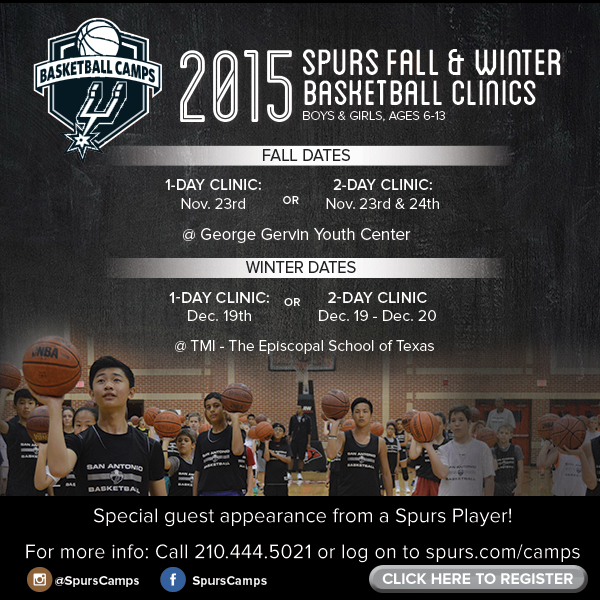 Spurs Basketball Clinics - Register Now!
Play like the pros with Spurs Sports & Entertainment's exclusive basketball clinics! Player's will spend the day refining their game with our world-class coaching staff as they focus on the fundamentals and improving technique through a variety of drills and station work. All skill levels are welcome, so come suit up and hit the hardwood with the best in the league!
For more information, visit spurs.com/camps.