---
---
Bruce Bowen Jersey Retirement Luncheon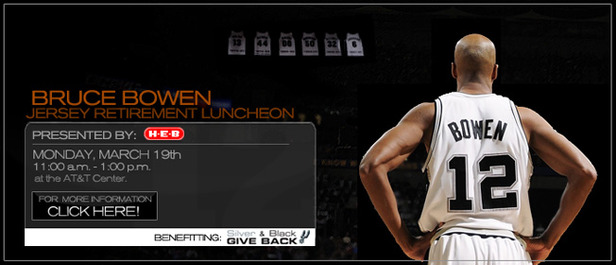 HEB presents the Bruce Bowen Jersey Retirement Luncheon, benefiting Silver & Black Give Back, to honor 3-time NBA Champion Bruce Bowen.
Guests in attendance will include our current players and coaches and former Spurs. They will help us pay tribute to Bruce and the many contributions he has made to San Antonio and our community. While the luncheon is a fundraiser for Silver & Black Give Back's youth programs, it is also a celebration of Bruce's time on the Spurs' roster - helping to bring home the 2003, 2005, and 2007 NBA World Championships.
We hope that you will join us on March 19. In addition to the program, there will be a silent auction featuring exclusive experiences and Spurs memorabilia. The ticket and table information is included on the link below.
The luncheon will help us set the stage for the raising of Bruce's jersey to our rafters during the Spurs v. Minnesota Timberwolves game on Wednesday, March 21.
Register for the luncheon today! (Silver packages are SOLD OUT!)
---
InspireU Shoots Hoops at the AT&T Center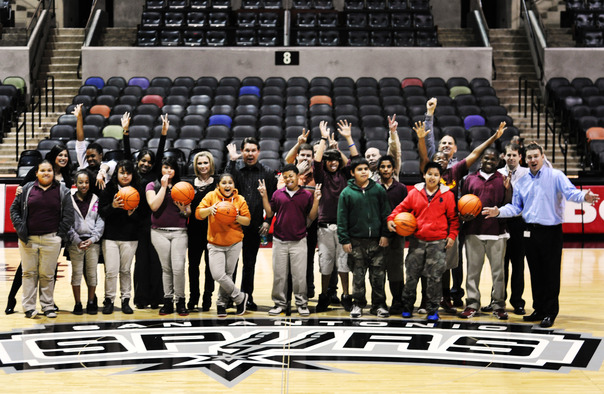 On Wednesday, January 25, twelve Spurs Sports & Entertainment mentors met with their "Littles" from Wheatley Middle School for some BBQ and a special shoot-around on the very hardwood court that the Spurs play on before tens of thousands of fans. The pairs got the chance to play H.O.R.S.E and a few pick-up games before parting ways. The following evening, SS&E mentors welcomed their "Littles" back to the AT&T Center to see the Harlem Globetrotters put on a show against the International Elite.
Each month, the pairs share a lunch hour together at the AT&T Center getting to know each other and building lasting relationships. The "Bigs" also make supplemental visits to Wheatley to hang out with their "Littles."
---
POSSE Serves Cowboy Breakfast at Warrior Family Support Center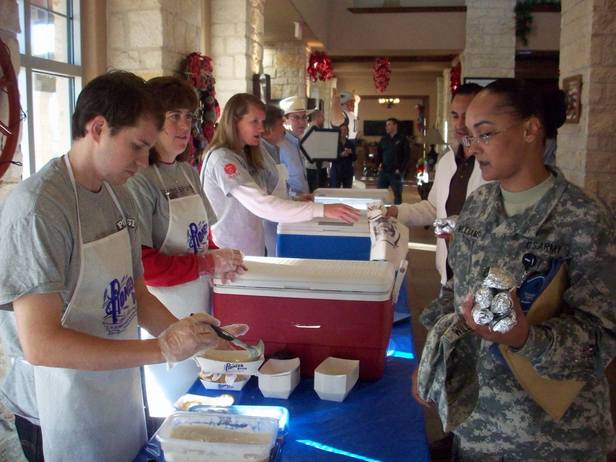 On Friday, January 27, the Volunteer POSSE joined forces with volunteers from Jordan Ford to serve 2,000 tacos, 500 biscuits, and 160 dozen tamales to the wounded warriors, their families, and support staff at Ft. Sam Houston's Warrior and Family Support Center.
The Cowboy Breakfast has been a long standing tradition in San Antonio since 1979. The breakfast kicks off the San Antonio Stock Show and Rodeo season, and holds the Guinness World Record for the world's largest free breakfast.
---
Want to Travel with the Spurs? Get Your Playoff Passport Today


Show your support for Silver & Black Give Back by purchasing your Playoff Passport today!
With each purchase of a Playoff Passport, your name will be entered to win one of three great prizes.
Grand Prize: Two guests fly with the Spurs team to their first away playoff game. (Two tickets to the game, hotel stay, and commercial flight back to San Antonio.)
The winner will be announced at the Spurs game on March 21st against the Minnesota Timberwolves. Only 500 Passports will be sold!
100% of your donation will support Silver & Black Give Back youth programs. And, thanks to Book of Free, you will receive over $1500 in gift cards.
Click here to purchase your Playoff Passports today!
---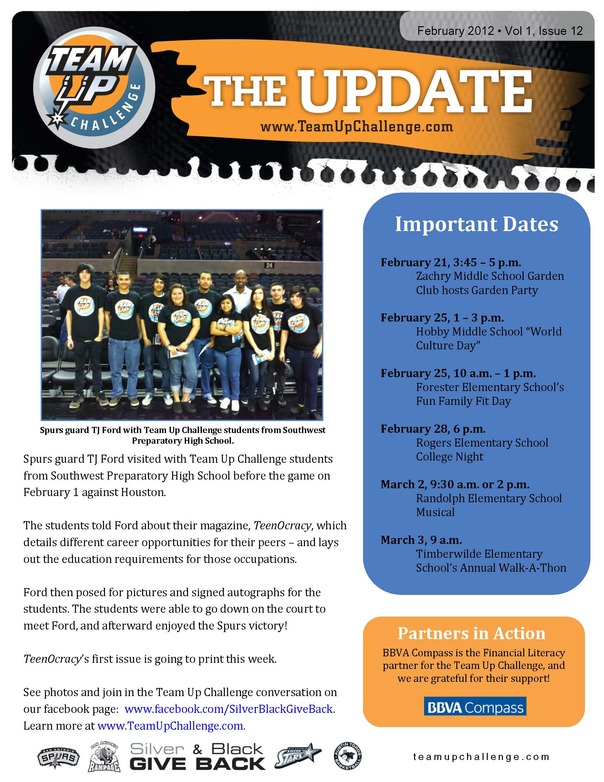 ---
To invest in the Team Up Challenge and our Youth Sports Programs, please click the button below:

---