The Latest with Silver & Black Give Back

November, 2011



---
---
Spurs GM RC Buford Spends a Morning with Team Up Challenge Semi-finalists at the Food Bank


RC Buford, Spurs General Manager and President of Sports Franchises, and the Spurs Coyote visited the San Antonio Food Bank on Tuesday, November 1st with two Team Up Challenge semi-finalist teams.
The New Frontiers Charter School's 7th grade and the Zachry Middle School's Garden Club spent time learning about how to build and maintain a community garden from the Spurs Community Garden Manager, Geoffrey Martin, before going out and volunteering in the garden with Mr. Buford and the Coyote.
They harvested green beans, planted onions, and inspected other crops for harmful insects. Both of the semi-finalists will be constructing their own community gardens as part of their Team Up Challenge projects, and enjoyed learning about what lies ahead in the coming months.
For a full list of the 20 semi-finalists and to see footage of the visits, please visit teamupchallenge.com and check out the newest issue of The Update below.
The Team Up Challenge is a service-learning initiative that gives students a chance to take what they're learning in the classroom and apply it to the real world, away from formal instruction. It connects life experiences with curriculum, bringing education alive in powerful ways.
---
Silver & Black Give Back a beneficiary of the Book of Free
Looking for a gift that keeps on giving this year? Silver & Black Give Back can help you with that! Purchase the Book of Free for $50 and you will receive 100 gift certificates for dining, golf, dry cleaning, sporting events and other activities. Up to $25 of every book purchased through Silver & Black Give Back will benefit our youth sports and education programs.
Click here to purchase your Book of Free now or contact Ashley Combs at acombs@attcenter.com for more information!
---


Spurs Coyote Mascot Challenge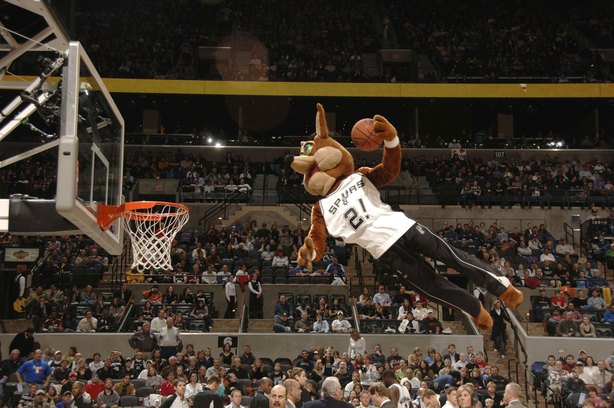 The Spurs Coyote Mascot Challenge will take place at the AT&T Center on Saturday, November 26th and will involve San Antonio high school mascots and mascots from local businesses. High school mascots will compete against each other in a fun series of events that will include dancing, physical activities, and team spirit competitions. Participation in this event will allow mascots the opportunity to win a variety of prizes. Everyone from the high school is invited to cheer their mascot on to victory.
Click here to enter your high school mascot for a chance to participate!
---


---