TWA supports Prop 8 on November ballot - Sighted In newsletter

August, 2011
TWA supports constitutional amendment promoting water stewardship
The Texas Wildlife Association supports Proposition 8 on the November ballot that amends the state constitution to provide for taxation of open-space land devoted to water stewardship purposes on the basis of its productive capacity.

Proposition 8 is one of 10 constitutional amendments on the November 8, 2011, statewide ballot. TWA's support of Proposition 8 is the organization's only position among the 10 ballot items. The TWA Executive Committee approved support of the water stewardship proposal at its August 10 meeting.

Click here for a one-page backgrounder on Proposition 8 from The Nature Conservancy.

Click here for a summary of all 10 ballot propositions in an article published by the Lubbock Avalanche-Journal.
Harveson recognized with Beasom Conservation Leaders Award
Dr. Louis Harveson of the Borderlands Research Institute, Sul Ross State University, was recognized at the recent convention of the Texas Wildlife Association as the 2011 recipient of the Sam Beasom Conservation Leader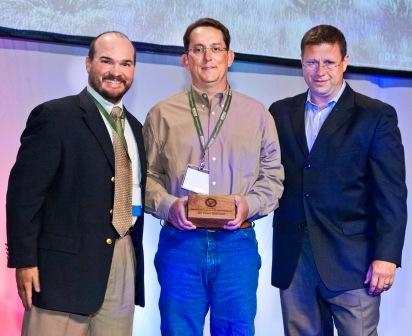 Award.

Dr. Harveson (center in photo) recognizes the importance of engaging his students in practical, field-related activities, and is also adept at cultivating professional development with his students through involvement with TWS chapter activities.
He has proven to be an effective fundraiser through his Chihuahuan Desert Research Institute, and he has also been successful at deploying these research dollars into good use through the research projects that he and his faculty administer. Also, his philosophical perspectives on wildlife and wildlife conservation seem to align well with those of the TWA mission and spirit.

Dr. Harveson is a wildlife professional who has proven his abilities, but he is at a stage of his life where he has many positive years ahead of him to continue to contribute in a variety of ways, including those activities and pursuits in which TWA is involved.
Record drought causing wildlife to move into areas outside of normal habitat
One of the worst droughts in Texas history has withered pastures and sucked lakes dry, and now it's causing shifts in the normal balance of nature and causing wild animals to show up where they typically aren't seen, according to the San Angelo Standard-Times.

Mountain lions have been spotted at the outskirts of San Angelo, and black bears are showing up in the Hill Country and around Del Rio.

Click here for the full article.
TWA reception in Georgetown attracts large turnout, new members
The Texas Wildlife Association celebrated over 80 attendees and welcomed 31 new members and two membership renewals at its membership reception in Georgetown on August 23.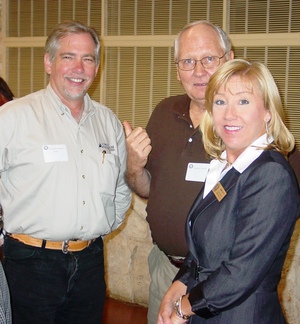 The reception at the Georgetown Community Center featured comments by TWA President Glen Webb and TWA CEO Gary Joiner and remarks by TWA Region 4 Co-Chair Doug DuBois Jr. and TWA Team Austin leader Bill Knolle. Two great raffle prizes were provided by TWA Director Carl Young and McBride's Guns of Austin.

Special thanks to the following Sponsors and Host Committee members for their generous support and efforts:

Sponsors: Quien Sabe Ranch, Magnum Custom Trailers, Nyle Maxwell, Dynamic Systems, Inc., and JP Morgan Chase Bank

Hosts: Alan McGraw, Carl Young, Nyle Maxwell, Warren Mayberry, Bryan Daniel, Edward Farmer, Norman Garza, Doug DuBois Jr., Bill Knolle, Jay Evans, Jason Parrish, and Kent Brenneman
Webinar outlines mineral development and conservation easement relationship
A free webinar by on how oil, gas, and mineral development can work with conservation easements is scheduled on September 14 by the Texas Agricultural Land Trust (TALT).

The webinar will outline how a landowner can protect their land with a conservation easement and develop the minerals. National conservation easement expert Steve Small and Texas oil and gas lawyer Joseph Fitzsimons will cover: Texas law regarding separation of oil, gas, and mineral interests from the surface estate; federal tax law requirements for a conservation easement deduction applicable to oil, gas, and other minerals; examples of situations in which a deduction will be available, might be available, and would likely not be available; showcase best management practices for reclamation and mitigation of surface damages.
Space is limited. Register today at www.txaglandtrust.org or call TALT at (210) 826-0074.
This information was taken from TWA's Sighted In newsletter. To view the August 24th, 2011, Sighted In newsletter in its entireity, visit http://hosted.verticalresponse.com/591153/ee13a6bc18/288351601/ebb5632fad/.