August 4, 2011
Deer disease test results come back clean, according to state officials
Chronic Wasting Disease and Bovine Tuberculosis were not detected in more than 300 deer held illegally on an East Texas deer breeding facility, according to findings at the Texas Veterinary Medical Diagnostic Laboratory.

The Texas Parks and Wildlife Department says the test results mean these deadly wildlife diseases have not been discovered in Texas deer, and enable several deer breeding facilities whose stock had co-mingled with the illegally held animals to resume normal operations.

"We are greatly relieved with the results from the disease testing," said Carter Smith, executive director of the Texas Parks and Wildlife Department. "We take disease issues very seriously because of the potential impacts to Texas' natural resources, the public's wildlife, and the multi-billion dollar hunting and deer breeding industries."

While the lab results provide a positive conclusion to an extensive epidemiological investigation by state wildlife officials, they do not moderate the actions of a 77-year-old former deer breeder that led to the need for disease testing.

Click here for the full TPWD news release.
Downs, Waggoner named TWA Adult Volunteers of the Year
Cathy Downs of Comfort and Gracie Waggoner of Kerrville were recognized as 2011 TWA Adult Volunteers of the Year on July 9 at WildLife 2011.

Cathy (left in photo) and Gracie (right in photo) volunteer their time and knowledge at Conservation Legacy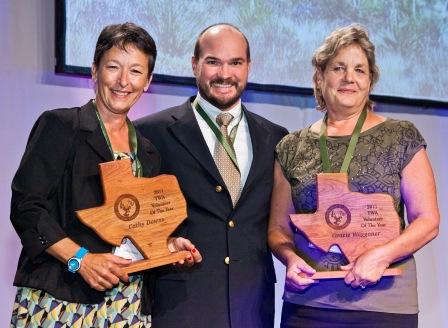 L.A.N.D.S. Field Days, Teacher Trainings, the TWA Convention, Volunteer Workshops, and they were the sole creators of the newest L.A.N.D.S. Outreach Discovery Trunk. They have also set up booths in various locations across Texas to help recruit other Master Naturalists and Outdoor Educators.

Through their leadership and continual giving back to their community, Cathy and Gracie are called upon regularly by other organizations to talk about plants, trees, bats, butterflies, and more. When there, somehow they find an opportunity to bring up the Texas Wildlife Association and all that TWA has to offer, which is an important tool in building membership. Within just this past year, TWA/L.A.N.D.S. have been introduced to several new partnerships and many new contacts. Having Cathy and Gracie as TWA Volunteers not only helps the Conservation Legacy program, it helps TWA as a whole through their vast experience and willingness to do whatever is needed.
Rural U.S. population share drops to 16 percent, all-time low
Rural America now accounts for just 16 percent of the nation's population, the lowest ever, according to the Austin American-Statesman.

The latest 2010 census numbers hint at an emerging America where, by midcentury, city boundaries become indistinct and rural areas grow ever less relevant. Many communities could shrink to virtual ghost towns as they shutter businesses and close down schools, demographers say.

In 1910, the population share of rural America was 72 percent. Such areas remained home to a majority of Americans until 1950, amid post-World War II economic expansion and the baby boom. Many rural areas, the Great Plains in particular, have been steadily losing population since the 1930s with few signs of the trend slowing, according to census figures.

Click here for the full story.
Texas Big Game Awards celebration attracts big turnout in College Station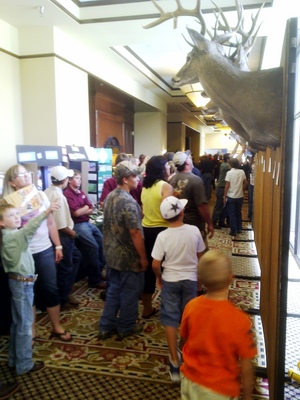 Over 500 hunters, landowners, family and friends enjoyed the Texas Big Game Awards Sportsman's Celebration on July 30 in College Station. The event featured award presentations for Regions 5, 6, and 7.

Awards, children's activities, a terrific raffle, and nearly 90 whitetail mounts were enjoyed by attendees. Thank you to all of the volunteers, sponsors, participants, and our great program partner Texas Parks and Wildlife Department and their representatives for a terrific celebration!
Prolonged drought is a grave threat to Texas fish, wildlife, parks
As experts nervously watch mounting threats of record drought in Texas, several truths are evident, according to the Wharton Journal-Spectator.

1) When water won't fall from the sky, what comes out of the ground is critical.

2) There are important things people can do to prepare to weather a drought, but when you're in one, the only quick fix is rain.

3) There are still parks, lakes and spring-fed rivers with water where folks can beat the dry heat.

June was the hottest June ever recorded in Texas. At this point, the current drought is the third worst on record based on the Palmer Drought Index, behind the droughts of 1916-1918 and 1951-1957.

Across the state, many springs and rivers are trickling and Texas lake levels are way down. In the west, some reservoirs have gone practically bone-dry, including O.C Fisher near San Angelo.

Click here for the full story.





























Mark Your Calendar
Texas Big Game Awards Regional Sportsman's Celebrations
August 6 - Regions 1, 2, and 3, Abilene
(event relocated to Abilene Civic Center)
August 27 - Regions 4 and 8, San Antonio

TWA Membership Events
August 5, Membership Reception, Abilene
August 23, Membership Reception, Georgetown
September 21, Private Lands Forum / Membership Reception, Beaumont
September 28, Membership Reception, Victoria
October 7, Membership Reception, Lubbock

Wildlife for Lunch Webinar Series
August 18 - Conducting a Deer Survey
September 22 - Scoring Deer Using Computer Software
October 20 - Aging Deer on the Hoof

TWAF "Passing on the Heritage" Celebration
August 31, Houston

TWA Volunteer Workshop
September 10, Houston

Women of the Land
September 23-25, Santa Anna

Lone Star Water Forum
September 24, Brenham

South Texas Wildlife Conference
September 28-30, Victoria
Buckskin Brigades teaches leadership, wildlife skills
Deer hunting just isn't for the boys anymore ... especially if you come from a family of five with four girls — two of which have eight state turkey calling titles between them, according to 14-year-old Mckenna Nixon in her own article in the Longview News-Journal.

That means if you want any respect around this house, you have to get out and prove yourself.

That's just what I did recently. I had an opportunity to attend the North Texas Buckskin Brigades Wildlife Leadership Camp at Stasney's Cook Ranch in Albany.

When I arrived at the ranch headquarters, along with the other 26 cadets, we were immediately divided up into herds. We only had a few minutes to come up with a name for our herd. My herd of seven young ladies chose the name "Buckskin Babes."

Click here for the full story.
TWA welcomes new members!
Michael Schoeneman, Fulshear
Stanley Scott, Lubbock
Michelle Scrudder, Carrollton
Carl Self, Manchaca
Tammy Shelton, Hico
Raymond Sims, Graham
William Sirakos, San Antonio
Charles Russell Smith, Leander
William Spaar, Marble Falls
Bruce Springer, Gatesville
Rachel Stanga, Ponchatoula, LA
Dan Steakley, Austin
Brent Stone, Childress
Tim Strieber, Yorktown
W.P. Stromberg, Lockhart
Joe Swan, Lubbock
Thomas Talcott, New Braunfels
Susan Taylor, Harker Heights
James Terrell, Austin
Michael Terry, Dallas
Rex Tucker, Brady
Jon Turner, Edinburg
Glen Turney, Spring Branch
Carolyn Tuttle, Rocksprings
Joey Venekamp, Breckenridge
Lee Virgel, Brazoria
Robert Wade, Early
Lawson Walden, San Antonio
Joseph Waligura, Leakey
Deborah Wardlaw, Kerrville
Michael Watz, El Campo
Evan Webb, Austin
Eric Weeks, Killeen
Sriyantha Weerasuria, Austin
James Weik, Cedar Creek
Roy Weinheimer, Stonewall
Kevin Wells, Iowa Park
Jeffery Wetzel, Blanket
Eric Whipkey, Barksdale
Steven White, Santa Fe
Darrell White, Waco
William White, Stowell
Stephen Wilbanks, Midland
Paula Windham, Clyde
James Wollschlaeger, Boerne
Noel Wood Jr, Richland Springs
Glenda Wylie, Hempstead
Cleon Y. Yates, Burnet
William Yoder, Edinburg
Larry Zaskoda, Cat Spring
555 E Pine St, LLC, Austin
A & A LivestockGatesville
Berli's Body & Fine Auto Finish, Pflugerville
Cobbo Holdings, LLC, Austin
DNT Construction LLC, Round Rock
Garrett Ranch, Irving
Hallmark Ranch, Mingus
Larrac Inv, LLC, San Antonio
Lasseter and Eppright Land & Cattle, Austin
Magnum Custom Trailers, Austin
Nabers Ranch, Houston
Oleo Ranch, Boerne
Rocking JP Ranch, Fort Worth
Ruble Ranch, Odessa
Ryan Construction, Zephyr
SLC Holdings LLC, Denton
Smith Co Ranch, Austin
TETCO Stores LP, San Antonio