July 22, 2011
TWA members elect 51 individuals to the TWA Board of Directors
Texas Wildlife Association members elected 51 volunteer leaders to the organization's Board of Directors for 2011-2014 at the TWA Joint Membership and Directors meeting on July 8 in San Antonio.

The statewide leaders were unanimously elected to a three-year term. They join the other 123 TWA Directors that are serving terms that expire in 2012 and 2013 and the 19 TWA Directors Emeritus/Honorary Directors Emeritus.

Curtis Anderson, Houston
J. David Anderson, Houston
Thomas Arnim, San Antonio
Joe Baker, San Antonio
Marc Bartoskewitz, Kingsville
Ty Bartoskewitz, Weatherford
Tom Beard, Alpine
James Blackwell, Littlefield
R. Warren Blesh, Goldthwaite
Gary Bomar, Abilene
Randy Cadwallader, San Antonio
Randy Cadwallader V, San Antonio
Linda Campbell, Austin
Jim Cathey, Ph.D., College Station
James Collins, McAllen
Cary Dietzmann, Cat Spring
Robert Dullnig, San Antonio
Justin Feild, Kingsville
Joseph Fitzsimons, San Antonio
Dan Flournoy, Houston
Joel Glass, Encinal
Johnnie Hudman, Albany
Randall Hudson III, Ft. Worth
Ronald Johnson, Missouri City
A.C. Dick Jones IV, Corpus Christi
Clayton Leonard, Hondo
Steve Mafrige, Tilden
Joey McCarty, Bulverde
Dr. Michael McCulloch, Odessa
Bruce McNabb, Fair Oaks Ranch
John B. Miller III, Houston
Jason Parrish, Austin
Scott Petty, Hondo
Bryan Pickens, Dallas
Randy Rehmann, Austin
Mike Reynolds, Austin
Homer Saye, Cypress
Carroll W. Schubert, San Antonio
Gary Schwarz, Harlingen
Greg Simons, San Angelo
Don Steinbach, Ph.D., Burton
Lane Sumner, Kent
David Synatzske, Cotulla
Sidney Terry, Houston
J. Timmins, Brownwood
Peggy Van Cleve, Carrizo Springs
Tom Vandivier, Austin
Bryan Wagner, Ft. Worth
Stephen "Randy" West, San Antonio
Craig Wingrove, San Antonio
Clayton Wolter, Sarita
TWA preparing comments on USFWS proposed rule on three species
The U.S. Fish and Wildlife Service (USFWS) has announced a proposed rule that will change the existing system for the take and use of U.S. captive bred scimitar-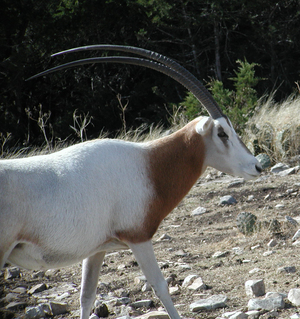 horned oryx, dama gazelle and addax.

The proposed rule was published on July 7, 2011, and the public has until August 8, 2011, to submit comments. The Texas Wildlife Association is preparing comments to express its concerns about the proposed rule.

Click here for the USFWS news release announcing the proposed rule.

TWA encourages every person with scimitar-horned oryx, dama gazelle, or addax to make USFWS aware how the proposed rule will specifically hinder their operation and whether or not they will continue to propagate those species.

The proposed change, if finalized, would require authorization under the Service's ESA implementing regulations at 50 C.F.R. section 17.21 and section 17.22 to carry out activities with these antelope species that would otherwise be prohibited.

In 2005, the Service added three antelope species that exist entirely or largely in captivity outside of their native range in Africa — the scimitar-horned oryx, addax, and dama gazelle — to the Federal List of Endangered and Threatened Wildlife..
Texas Hunters for the Hungry serve
nine million and counting
Texas Hunters for the Hungry, a program administered by the Texas Association of Community Action Agencies, Inc., has exceeded two million pounds of venison donated over the last 20 years.

This year, the program has contributed 178,662 pounds of venison to more than 100 organizations that serve low income people across Texas. Hunters take legally harvested deer to a participating meat processor, pay a nominal fee to cover basic processing costs, and the meat processor does the rest.

All meat donated to the program is distributed to families and individuals in need through local food banks, food pantries and soup kitchens. For more information, click here or call 1-800-992-9767 ext. 506.















Mark Your Calendar
Texas Big Game Awards Regional Sportsman's Celebrations
July 30 - Regions 5, 6, and 7, College Station
August 6 - Regions 1, 2, and 3, Abilene
August 27 - Regions 4 and 8, San Antonio

Wildlife for Lunch Webinar Series
August 18 - Conducting a Deer Survey
September 22 - Scoring Deer Using Computer Software
October 20 - Aging Deer on the Hoof

TWAF "Passing on the Heritage" Celebration
August 31, Houston

Women of the Land
September 23-25, Santa Anna

Lone Star Water Forum
September 24, Brenham

South Texas Wildlife Conference
September 28-30, Victoria
Dove study effort provides survival, harvest information
About 500 white-winged doves have gone through Jessica Leslie's hands in the past two months. But before any dove hunter starts getting a little case of bird envy, her close contact with one of the most popular wing-shooters' targets is purely in the interest of biology. according to the San Antonio Express-News.

Leslie, a master naturalist, has been a dove-banding volunteer for the past four years and has been working with Texas Parks & Wildlife Department biologists on a study designed to help determine the future of doves throughout the country.

"I have probably handled about 1,500 birds in the past four years," Leslie said as she checked her traps at the San Antonio Botanical Gardens. "We do recapture quite a few. I have trapped one bird 18 times."

From June 1 through Aug. 15, volunteers like Leslie will be capturing and banding thousands of both mourning and white-winged doves as part of a national effort coordinated by the U.S. Fish and Wildlife Service to help determine migration patterns, survival rates and other information.

Click here for the full story.
Group takes aim at "canned" hunting operations
After infiltrating game ranches, including a Texas operation, an animal rights group hopes to gain traction for its agenda through a documentary that purportedly shows activists going undercover at what they call "canned hunts," according to an article in the July 22 issue of Lone Star Outdoor News.

The publication says "Animal Plant Investigates: Captive Hunting Exposed" shows activities with Action Outdoor Adventures near Hondo that were secretly videotaped by members of the Humane Society of the United States posing as clients.

Click here for an online version of the publication's front page story.
TWA welcomes new members!
Matt Klosterman, Raymondville
Michael Lamon, Harlingen
Eric Martinez, Weslaco
Buchanan Shores Lake Ranch LLC, Richmond
Yvonne Peck, Rio Hondo
David Reid, Harlingen
Tony Rodriguez, Brownsville
David Smith, Harlingen
Virgil Swanberg, Harlingen
Vernon Swanberg, Raymondville
Steven Thomas, Harlingen
Paul Thomas, Harlingen
Joe White, Brownsville
Troy Wittenbach, Harlingen
Rick Zuniga, Rio Hondo
La Feria Excavation, La Feria
Lad T-Shirts, Brownsville
P.M. Solutions, Harlingen
Rio Costero Ranch, Harlingen
Staton's Marine, Combes
Jack Petty Family, San Antonio
David Vinson, Rowena
Shelly Waldon, Atlanta
Cottonwood Creek Ranch, Gatesville
Greg Holloway, Belton
Vickie McMillan, Spring
Trey Steinmann, Cypress
Kerrie Winn, Irving
Los Cielos Grandes, Houston
John Thomas, Round Rock
Rick Barnett, Mead, OK
Bruce Culpepper, Houston
Brad Hoke, Corpus Christi
Steve Hollywood, Seagoville
Melanie Anderson, Dumas
Janet Bass, Ben Wheeler
Patricia Breaux, Aledo
Melanie Fields, Tatum
Dana Fish, Missouri City
Lindsay Fisher, Lumberton
Heather Ford, Dumas
Taylor Griffith, Harker Heights
Tamra Haidle, Cactus
Sherry Robinett, Dumas
Jessica Ruiz, Harker Heights
Rebecca Swerdloff, Kingwood
Dory Townley, Richmond
Amanda Williams, Ben Wheeler