Mark Your Calendar
Wildlife for Lunch Webinar Series
January 20, Wildlife Tax Valuation
February 17, Nutrition - The Pros and Cons of Supplemental Fee
"Wildlife, Land & Livestock"
January 29, Fort Worth Stock Show & Rodeo (TWA seminars; complimentary grounds admission passes)
TWA Conservation Legacy Volunteer Training Workshop
February 5, Gander Mountain, Houston
TWA Boots on the Ground
February 14-15, AT&T Center, Austin
Texas Big Game Awards
February 15, entry deadline
Life's Better Outside Experience
February 18-20, San Antonio
March 5-6, Houston
May 6-8, Fort Worth
WildLife 2011
July 7-10, 2011, JW Marriott San Antonio Hill Country Resort and Spa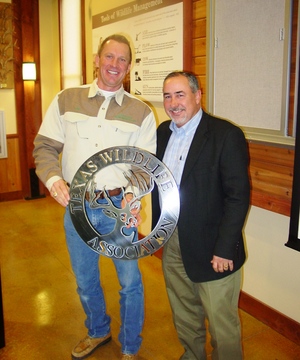 Members of the TWA Executive Committee and TWA Board of Directors enjoyed the warmth and hospitality of the Kerr Wildlife Management Area near Hunt, January 12-13, as part of its leadership meetings. TWA Treasurer Greg Simons (right) presents Kerr WMA manager and TWA Director Donnie Frels with a gift of appreciation from the organization.
TYHP concludes largest single weekend of youth hunt activity
This past weekend featured 10 youth hunts and 175 youth hunters in the most active weekend of the year for the Texas Youth Hunting Program (TYHP).
The exceptional weekend coincided with the state's January Youth Only Hunting Season.
The weekend was punctuated by the 8th Annual Cave Creek Wildlife Management Association (WMA) Super Hunt, billed as the "Largest Youth Hunting Event in the World," hosted 59 hunters and well over 200 total participants, including landowners.
Click here for a full summary of the weekend's youth hunting activities.
TWA welcomes new members!
Scott Barton,Midland
Zane Beckmann,Fredericksburg
Cheryl Brandt, Briggs
Steven Bridges, Goldthwaite
David Brigham, Austin
Rich Brown, Goldthwaite
Steve Burnett, San Saba
John Byrd, San Saba
Les Copeland, Georgetown
Nelbert Corgey, Houston
Lanny Daugherty, Wichita Falls
Gwen Dean, Cherokee
Jennifer Dickey, Santa Fe, NM
Anthony Duke Jr., Alvin
Steve Dyer, San Saba
Lester Evans, Gatesville
James Everett, San Saba
Steve Fogle, Goldthwaite
Carter Ghrist, Argyle
James Glick, Lexington
James Goodson, Hockley
Tom Guthrie, Goldthwaite
Robert Hall, Goldthwaite
Cheree Hamblem, Goldthwaite
Chris Harrison, Fort Worth
Clint Head, Teague
Michael Hersey, Houston
Patrick Hightower, Tyler
John Hill, Canyon Lake
Daniel Houston, San Antonio
Kevin Howard, Lake Dallas
Scott Huddleston, Sidney
Keith Hudson, Goldthwaite