Dear TWA Member and Supporter,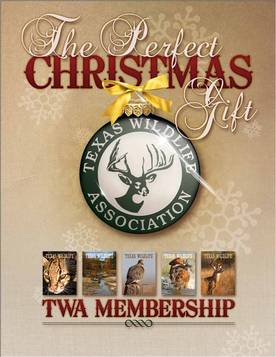 Share the mission and message of the Texas Wildlife Association this season by giving the perfect Christmas gift to relatives, colleagues, and friends: A TWA membership!
Many TWA members and supporters celebrate Christmas by sharing their pride in the Texas Wildlife Association. A TWA Christmas Gift Membership is an outstanding way to introduce others to an organization that is important to you and making a difference for Texas wildlife and our state.
You choose the gift recipient and the desired membeship level, and we'll take care of the rest. We'll ensure that your gift is just right this holiday season. It's easy, and your support of TWA is greatly appreciated.
And this year, in particular, represents an unprecedented opportunity for TWA as it nears the 6000 member mark! What a great time to be part of a special season at the very special time in the history of the Texas Wildlife Association.

Click here for a TWA Christmas Gift Membership Application Form
The Texas Wildlife Association (TWA) is a statewide 501(c)(4) non-profit membership organization that serves as an advocate for wildlife and natural resource conservation in educational, scientific, regulatory and legislative arenas. As a voice for Texas conservationists, TWA focuses its mission on natural resource stewardship, issues relating to private property, hunting and hunter rights, and conservation education. TWA is absolutely dedicated to educating all persons, especially the youth of Texas about the conservation, management and enhancement of wildlife and wildlife habitat through three main program areas: Conservation Legacy (youth and adult education), Hunting Heritage (Texas Youth Hunting Program and Texas Big Game Awards), and Issues and Advocacy. Learn more at www.texaswildlife.org.