March 5, 2010
TWA advocates for increased funding of USDA Wildlife Services program
The Texas Wildlife Association has joined over 50 other state and national wildlife organizations, sheep and cattle producer associations, and state and local governments in supporting a funding increase in the Livestock Protection Program of U.S. Department of Agriculture Wildlife Services in the FY 2011 appropriations for agriculture.
The strong support was articulated in a March 1 letter to the chairs of the agricultural appropriations subcommittees in the U.S. House of Representatives and in the U.S. Senate. The associations joined in requesting an additional $8.3 million for USDA's Wildlife Services for livestock protection
Click here for a copy of the letter to Sen. Herb Kohl signed by TWA.
TWA Team Dallas taking aim at Fun Shoot
TWA Team Dallas is hosting a Fun Shoot on Saturday, May 1, at Elm Fork Shooting Sports, with lunch and awards provided, as well as a gun raffle.
Registration begins at 9 a.m., and the shotgun start begins at 10 a.m. A registration brochure is available detailing sponsorship and participation opportunities.
Contact TWA Director of Member Relations Kendra Roller for more information.
Teachers to be recognized for natural resources education
The Texas Wildlife Association Foundation and San Antonio Livestock Exposition, Inc. announce the opportunity for two deserving area teachers to be recognized for their contributions and earn a financial award for their school in the amount of $2,500.
This $2,500 school "scholarship" will be awarded to each school in recognition of the winning teachers' use of innovative techniques and curricula to promote natural resource literacy among their students.
At least one award will be given to a teacher from Atascosa, Bandera, Bexar, Comal, Frio, Gillespie, Gonzales, Guadalupe, Kendall, Kerr, Medina, Real, Uvalde, Wilson, or Zavala counties teaching in an accredited K-12 school. The second award may go to a teacher from any Texas county.
Applicants must complete the application and return it no later than April 1. The winners will be announced May 1.
From the wild to the table: homemade sausage worth the process
Tyler Morning Telegraph food editor Leigh Vickery recently took a cooking lesson from two men who have been fine-tuning their skills for about 20 years, making some of the best Italian and country venison sausage around. Not a hint of wild game taste anywhere, just a perfect blend of spices mixed in fresh venison and pork, according to Vickery.
Click here to read her full article and the men's secret to great homemade sausage.
Forward this email to a friend
Mark Your Calendar

Rio Grande Wild Turkey Symposium
March 25-26, Hunt

Trans-Pecos Prescribed Fire Symposium
April 8-9, Alpine

Wildlife for Lunch Webinar Series
April 15, Managing Farm and Ranch ponds for Largemouth Bass
June 17, Feral Hogs - The Good, the
Bad, and the Ugly

Women of the Land Workshop
May 14-16
La Bandera Ranch, Carrizo Springs

Desert QuailMasters
April 25-27, Midland/Odessa
June 6-8, TBD
August 15-17, Armendaris Ranch, NM
October 24-26, Alpine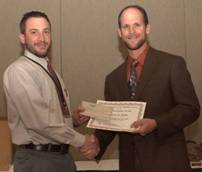 Jonathan Dudko (left), a senior in the Wildlife Management and Conservation Science program at Texas A&M University-Commerce, is the proud recipient of this year's Charly McTee Memorial Scholarship from the Texas Chapter of the Wildlife Society.

The late Charly McTee served as TWA general manager and editor of "Texas Wildlife" from 1990 until his death in 1997. Pictured with Dudko is Dr. Bart Ballard (right), now Past President of the Texas Chapter of the Wildlife Society, and Associate Professor and Research Scientist at CKWRI.

Texas State University was also named winner of the TWA student chapter professional development award at the Wildlife Society annual meeting. The award is funded by the San Antonio Livestock Exposition, Inc.

TWA welcomes new members!
Susan Baggett Family, Belton
Dennis Baldwin, Dallas
Jacque Barton, Abilene
Nate Bartush, Laramie, WY
Trey Batchelder, San Antonio
J. D. Beeson, Freer
Edward Belcik, Junction
Richard Benavides, San Antonio
Lindsey Birdwell, Fort Worth
Kyle Birdwell, Irving
George Boueri, Spring
Ronald Bowen, Weimar
Tony Boyd, Highlands
Todd Branson, Magnolia
Reagan Brooks, Kingsbury
Ricky Brown, Quitman