Supreme Court ruling means no lake for Dallas
The ever-thirstier cities of North Texas will have to look somewhere other than the Neches River in East Texas for their future water supplies, according to the Dallas Morning News. Click here to read the full article about the impact of the ruling.
Mark Your Calendar
Ranching and Wildlife Expo
March 4-7, Houston Livestock Show and Rodeo
Rio Grande Wild Turkey Symposium
March 25-26, Hunt
Trans-Pecos Prescribed Fire Symposium
April 8-9, Alpine
Wildlife for Lunch Webinar Series
April 15, Managing Farm and Ranch ponds for Largemouth Bass
June 17, Feral Hogs - The Good, the Bad, and the Ugly
Women of the Land Workshop
May 14-16
La Bandera Ranch, Carrizo Springs
Desert QuailMasters
April 25-27, Midland/Odessa
June 6-8, TBD
August 15-17, Armendaris Ranch, NM
October 24-26, Alpine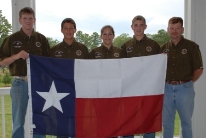 TWA was proud to support this year's State 4-H WHEP Team (Wildlife Habitat Evaluation Program) at the recent national contest. The Fayette County team wearing their TWA shirts include (l-r) Codie Lange, Ryan Janda, Lorin Williams, Kelley Ullrich, and coach Bobby Williams. TWA assists the state team with their travel expenses and supports the WHEP program with professional staff time.
TWA welcomes new members!
Joshua Berckenhoff, Riviera
Stephanie Castillo, Houston
Brennan Decuir, Houston
Robert Estrada Jr, Houston
Andrew Garcia, Houston
Andrea Hernandez, Houston
David Hundley, Moody
J. Michael Lewis, Dallas
Anselmo Lopez, Houston
Alfred Stone III, Houston
David Wade, Cat Spring
James "Chris" Walters, Longview
Gracie Wenzel, New Braunfels
Los Encinos Ranch, McAllen
962 Ranch, LLC, Cottonwood Shores